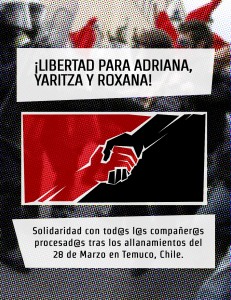 Carabineros realizó la mañana de este jueves 28 de marzo, dos violentos allanamientos en distintos puntos de Temuco, en el contexto de labores represivas previas a la conmemoración del Día del Joven Combatiente.
Según la prensa 12 personas resultaron detenidas en ambos operativos, dentro de las cuales hay 4 mujeres. Todos/as fueron llevados/as al asqueroso cuartel de la Octava Comisaría, de Temuco.
Uno de los operativos se efectuó en una casa ubicada en calle San Ernesto con O'Higgins, en el sector Plaza Dreve que correspondería al Espacio Pandemia, la cual hace unos días emitió un comunicado ante los hostigamientos policiales, y de manera simultánea se efectuó un allanamiento en calle Capri, del sector Amanecer.
Según los delirantes policías encontraron drogas, elementos para fabricación de explosivos, relojes y 2 bombas a medio armar instaladas en extintores, cosa que resulta extraña cuando solo hace unos días se emitió el comunicado desde el espacio Pandemia.
Las supuestas especies encontradas son analizadas para intentar vincular a los compas con los dispositivos instalados recientemente en la Dirección Regional de Gendarmería de Temuco y en un incendio en el patio de maderas de las tienda Sodimac.
Hoy 29 de marzo, el Juzgado de Garantía de Temuco dictaminó lo siguiente: las compañeras formalizadas por el delito de tenencia, fabricación e instalación de artefactos explosivos, son Ariadna Torres Torres, Roxana Marín Laurie y Yaritza Grandón Paredes, quienes deberán pasar 5 meses en prisión preventiva. Además dos compañeros fueron cargados con marihuana y están siendo procesados por poseer 100 gramos, por lo que estarán en prisión preventiva al menos por tres meses. También quedaron en libertad 6 compañeros/as, que deberán pagar una multa de 2 UTM por negarse a dar sus identidades.
El llamado es a solidarizar no solo con los/as compañeros/as secuestrados/as por el capital, sino también con el espacio Pandemia.
 ¡Libertad para Yaritza, Roxana y Adriana! ¡A dar muestras de solidaridad!
——————————————————————————————————————–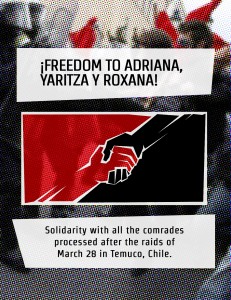 The police carried out in the morning of Thursday March 28, two violent raids in different parts of Temuco (Chile), in the context of repressive tasks before the commemoration of the Youth Combatant's Day.
According to media reports, 12 people were arrested in both operations, four of them were women. They were taken to the «disgusting» police station of  Temuco.
One of the operatives took place in a house at San Ernesto st. with O'Higgins st; in the area of Dreve square, which would correspond to Pandemia Space, where a few days ago were released a statement against the police harassment, at the same time a raid took place in Capri Street, Amanecer area.
According to the raving policemen were found: drugs, explosives manufacturing elements, watches and 2 unfinished bombs installed in fire extinguishers, something strange when you consider that just a few days ago the statement was released from Pandemia space
The items supposedly found, are analyzed to try to link the comrades with the devices installed recently at the Regional Temuco's Gendarmerie Directorate and in a fire in the wood yard of Sodimac store.
Today March 29, the Temuco's Court of Guarantee, resolved that: the  comrades  formalized for the crime of possession, manufacture and installation of explosive devices, are: Adriana Torres Torres, Roxana Marín Laurie y Yaritza Grandón Paredes,  who will spend five months in custody. Also two comrades were charged with 100 grams of marijuana and they are being processed, so they will be in custody for at least three months.Six comrades were released but they should pay an amount of 2 UTM (U$D 160) for refusing to give their identities.
The call is to solidarize not only with the comrades kidnapped by the capitalist system, but also with the Pandemia space.
Freedom to Yaritza , Roxana and Adriana! To show our  solidarity!